There's no better way to experience an area than to adopt a local's lense.  It's incredible what you'll see when you stop looking around for tourist hotspots and start living like a local!  When Edward Tomasso travels professionally or just for fun, he likes to truly experience the area he's in. While tourist attractions can be fun, there's no greater adventure than one of authenticity!
While living in Italy, Edward Tomasso made a major effort to blend in with the locals.  Nothing screams "I'm not from here!" quite like huddling around the tourist traps. Don't get me wrong — you have to see the beauty of:
Colosseum

Cathedral of Santa Maria del Fiore

Trevi Fountain

Roman Forum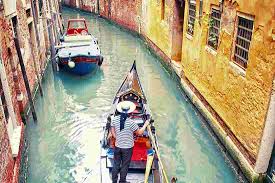 These sites are rites of passage for a tourist in Italy!  But there's something truly unique about venturing off into the lesser known communities.  The fruit, Tomasso says, is especially sweeter.
Of course, you can always ask a real local for advice. But, this can be pretty tricky when you aren't fluent in Italian.  So if "dove sono?" doesn't make any sense to you, you may want to call on these travel guide books for some help!
Back Roads Northern & Central Italy (DK Eyewitness Travel)
This beautifully colorful guide has all the vitality of a strong resource, with a little taste of the fun and trivial.  The title really says it all. This book recommends 25 leisurely drives along the picturesque landscapes of rural Italy.  Take a detour through roads less traveled (literally). Chances are, you'll find something special that the beaten path is lacking.  When everyone talks about their exciting photo opportunities at the Leaning Tower of Pisa, you can gush about your peaceful picnic in Umbrian Hills.  In addition to the intriguing itineraries in this book, there are also plenty of driving tips. Definitely a must if you're renting a vehicle!
Experience Italy (Lonely Planet)
If you're a Kindle Unlimited subscriber, you'll be happy to know that the digital edition of this travel guide is free!  This guide certainly shows you how to experience the Italian Republic. Theme-based, Experience Italy helps tourists who are seeking the heart of Italy.  Whether you're looking to feast on the flavors of the cuisine, adventure through Pompeii's atmospheric ruins, or something equally exciting, this photo-rich book is a vital resource to keep in your backpack!
The Best Kept Secrets of Italy (Gordon Kerr)
This one's less of a guide book and more of a work of art.  It's a wonderful addition to anyone's home library. But if you take it along with you on your Italian journey, you'll be sure to find some secrets the other tourists will miss out on!  Gordon Kerr offers readers a unique view of Northern, Central and Southern Italy — and even the Islands. Edward Tomasso recommends reading this before you visit Italy, rather than using it as a map resource while on your trip.  It's a great tool for planning your trip and making note of can't miss spots!
Check out these free photography workshops offered by Edward Tomasso on the Bartering Exchange Network to help you capture the beautiful sites and spots you find along your travels!